Over a period of writing about turmeric, I have realized something. Turmeric is just like a ninja, it is super powerful, super healthy and super super smart, but just like a ninja, it just can blend in any and everywhere.
Ok, maybe I am watching too much ninja stuff these days, apologies!!! But turmeric simply amazes me.
Today's dish of ours is about turmeric and its tasty friend Salmon.
So what its inventor Kellie of https://kelliesfoodtoglow.com/ calls it is –"Lime and fresh turmeric Salmon with baked lime leaf rice".
What could be better for the heart and the brain than a dish that synergizes the medicinal properties of turmeric with the omega 3s of salmon!
Ingredients
Lime Leaf
Lime Juice
Fresh Turmeric
Fresh Ginger
Salmon Fillets
Black Peppercorns
Red Chilly
Fish Sauce
Dark Soy
Onions
Spring Onions
Basmati Rice
Coconut Oil
Sugar
Water
Oil
Let's have a closer look at the health quotient. Lime Leaf and Lime Juice are a good source of antioxidants and vitamin C. They have ample of bioactives, such as antioxidants and anti inflammatory substances, etc.
They also have flavanoids and Phenolic Acids. These are effective on blood glucose and are anti-cancerous in nature.
Ginger is anti inflammatory in nature, it also possesses anti tumorous activities and is beneficial in cancer. It is anti microbial, and also protects brain health.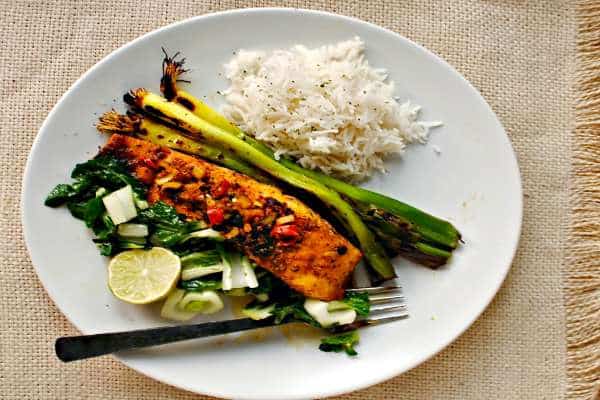 Image credit: https://kelliesfoodtoglow.com/
Salmon provides with Vitamin D and Vitamin B12. It is a good source of selenium. It is rich in Niacin, Omega-3-Fatty Acids, Choline, Biotin and Potassium.
The omega 3 fatty acid content makes salmon the perfect food for brain health and weight loss.
Black Pepper is an anti-inflammatory agent, and is a good source of Manganese, Iron and Potassium.
It also helps in absorption of turmeric's active ingredients. (Read How to improve Absorption/Bioavailability of Turmeric, Health benefits of Black Pepper and Turmeric)
Basmati Rice is aromatic, rich in vitamins and essential amino acids. It is gluten free and has a medium glycemix index.
Since you guys are avid readers of this blog, I don't really to need to tell you what turmeric, in this dish, would do for you.
Apart from its superb health benefits (Read 6 Reasons To Take Turmeric Even If You Are Healthy), simply adding turmeric to any dish improves its nutritional content of the dish. (Read How Cooking with Turmeric Protects your food and Makes It healthier)
So, I really think, you should waste no time in getting your hands on this recipe, you can get the full recipe from-
Lime and Fresh Turmeric Salmon with Baked Lime Leaf Rice
For many other healthy delicious glowing recipes, do not forget to go to Kellie, at-
https://kelliesfoodtoglow.com/
Also, do not forget to comment your doubts and suggestions and how you liked this dish.
And If you have come up with any innovative use of turmeric or a mindblowing dish, please mail it to us at www.turmericforhealth.com.
Happy cooking !
Save
Save
Save