Zucchini, just the sound of it strikes you like a gust of summer breeze, doesn't it? Popularly known as the "Summer Squash", Zucchini is a milder, wilder and sweeter form of cucumber for those of you who haven't heard of it. And on the positive side, zucchini provides just 17 calories per 100 grams.
So when I first came across this recipe of healthynibblesandbits.com, about "Turmeric Zucchini", honestly I was a bit unsure whether these flavors would blend together.
But the recipe was coming from none other than the lawyer turned food blogger, chocolate lover Lisa, so one had to give this a try. And after all that is the thing about recipes and relationships, you never know how it turns until you have it for yourself.
Here's a quick brush up for you about the importance of the golden spice "turmeric".
Turmeric is sure to help with inflammation, weight loss, it is a natural painkiller, and it is a natural detoxifier and the anti microbial and antibacterial properties. (Read Turmeric for pain, Turmeric for weight loss)
And just as a side note, turmeric is also said to possess some anti depressant properties too.
One can keep on finding reasons to inculcate turmeric in one's diet, because the list of turmeric's goodness only keeps on growing with each passing research.
What makes this recipe special is that it revolves around the magic spice, but it also succeeds at keeping our taste buds happy.
This recipe gives you a good dose of turmeric, around 240-320mg curcumin in the entire recipe.
50-200mg of curcumin taken daily for 8 weeks reduces cardiac risk and improves vascular function in healthy individuals. (Read Turmeric for Heart)
1.5g of turmeric (less than what is used in the recipe) is as effective as ibuprofen in attenuating pain and inflammation in arthritis. (Read Turmeric for Rheumatoid Arthritis, Turmeric for Osteoarthritis)
Before diving into the recipe here is a list of the ingredients.
Ingredients
Zucchini
Russet Potatoes
Garbanzo bean flour
Eggs
Chopped Chives
Olive oil
Turmeric
Salt and pepper
Tzatziki sauce (optional)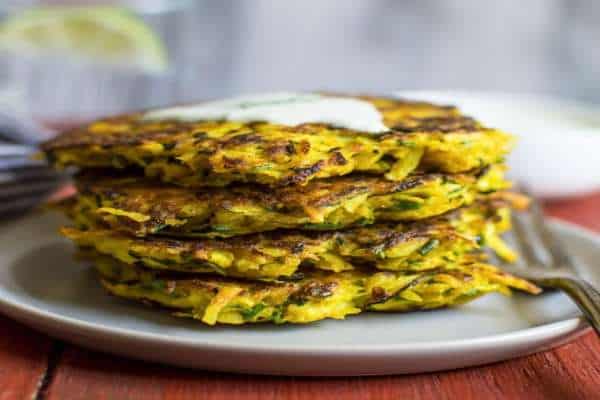 Now Zucchini here contains a pool of vitamins in it , such as Vitamin A , Vitamin B1, Vitamin B6, Folate. It also contains Omega 3 Fatty Acids, Zinc, Niacin, Copper, Phosphorous and Calcium to name a few minerals. So it was amazing health, skin and hair benefits.
Eggs, serve as an awesome source of selenium, Vitamin D, Vitamin B2, B6 and B12. They also possess zinc , iron and copper, and they are super tasty!
And if you are worried about the cholesterol from eggs then let me point out a few studies which show that whole egg consumption does not raise cholesterol levels in healthy individuals as well as those suffering from metabolic syndrome. In fact it improves cholesterol levels.
Zucchini has deep green color that is attributed to pigments called carotenoids and these are great antioxidants. A study published in American Journal of Clinical Nutrition, 2015 shows that consuming eggs with carotenoid rich foods like raw veggies actually increases the absorption of these antioxidants in our body.
Olive oil is a rich source of Monounsaturated Fatty Acids (MUFA's), so it is great for heart health and for weight loss.
A 3 week study showed that incorporation of olive oil in diet improved good cholesterol levels in healthy individuals and also improved antioxidant status.
All said, turmeric still steals the show in this dish, and gives it that kick.
This recipe serves as a brilliant appetizer, and the picture looks simply mouthwatering doesn't it? And another thing that I love about this dish is that it is absolutely- "gluten free".
To find the complete recipe, go to this link- http://healthynibblesandbits.com/turmeric-zucchini-and-potato-fritters/
Try this as an evening snack and it will please your taste buds and gut alike. And my favorite thing about this dish is that it is super easy to make, if you have your chopping skills honed then this should not take more than 45 minutes. So all the very best!
And do not forget to tell us how you like it, by commenting here below, any suggestions and variations to the recipe is welcome here.
Cooking is all about sharing and enjoying variations, so if you have a great recipe that you would like others to know, please feel free to mail it to us at [email protected]
Save
Save
Save
Save