I am going to share an amazing smoothie recipe today with you.
It is full of amazing health benefits of not only turmeric but several other awesome and healthy foods.
Carrot Ginger Turmeric Smoothie
The recipe is from Dana of minimalistbaker.com. She has been creating simple and delicious recipes which require 10 ingredients or less (hence the name of her blog).
What is great about this recipe – its ingredients.
The key feature of this recipe is that it includes some of the healthiest foods we know. Let's discuss them one by one:
1. Ginger: Known for its anti-inflammatory and infection fighting properties. It is great for digestive system.
2. Banana: One of the healthiest fruits. Packed with potassium and healthy carbs. It is great for digestive health.
3. Pineapple: Known for its anti-inflammatory and anti-oxidant properties. I love its taste (who does not). Good for digestion.
4. Lemon: Vitamin C powerhouse, great overall health promoter. A great anti-oxidant.
5. Carrot: Great taste with amazing anti-oxidant properties. Great for eyes and general health. Great anti-oxidant
6. Turmeric: Okay, what else to say about it! This whole portal is dedicated to it 🙂
So, if you have a smoothie which has the above ingredient list there is no doubt about its health promoting benefits!
It can be a great addition to your breakfast or maybe part of your evening sack.
Details of preparing
Here are the details of ingredients which serves two:
CARROT JUICE
2 cups (~275 g) carrots
1 1/2 cups (360 ml) filtered water
SMOOTHIE
1 large ripe banana, previously peeled, sliced and frozen (more for a sweeter smoothie)
1 cup (140 g) frozen or fresh pineapple
1/2 Tbsp fresh ginger (1 small knob, peeled)
1/4 tsp ground turmeric (or sub cinnamon). I would make it ½ or 1 tsp.
1/2 cup (120 ml) carrot juice
1 Tbsp lemon juice (~1/2 small lemon)
1 cup (240 ml) unsweetened almond milk
The only change I would like to have in the above is putting some more turmeric. Preferably ½ to 1 tsp.
How does it look? Just amazing —
Image courtesy – minimalistbaker.com
Here is the broad nutritional profile of the smoothie: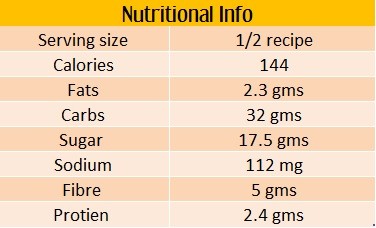 What about black pepper?
As with some other recipes I have published this one also does not have black pepper or fats.
I have two suggestions here:
Add some black pepper in the smoothie, I tried it and must say it does not taste bad. But yes, you lose the flavour of everything else. 🙁
As this smoothie can be part of your breakfast you can include black pepper or fats in other things you are having. It will have same effect as taking them along with turmeric.
Preperation process
According to the guidelines of Dana's blog I cannot re-publish the whole process of preparing the smoothie here.
But here is the link to her blog and you can find the rest of the process (which is extremely easy by the way).
Do try it, its worth it!
Precautions
Please check the nutritional content before going ahead with the recipe. In case of inflammation or sugar related disorder, exercise special caution due to presence of sugar.
How do you take your turmeric, share your method and recipes with others!