Lung cancer is the abnormal growth of cells in the lungs. Lungs perform the vital function of life- breathing and supporting oxygen transport in the body.
Lung cancer cells interfere in this function of the lungs.
Primary lung cancer is when cancer starts in the lung cells and tissue while Secondary lung cancer is when cancer occurs in another part of the body and spreads to the lungs.
American Cancer Society describes 3 major classifications of lung cancer :
Non small cell lung cancer
Small cell lung cancer
Lung carcinoid tumor
Non small cell lung cancer is the most common type and it has subtypes depending on the cell affected. Small cell lung cancer accounts for 10-15% of lung cancers and spreads quickly.
Lung carcinoid tumors are rare occurrences.
Various risk factors for lung cancer have been identified :
Smoking ( tobacco, cocaine, marijuana) now or in the past
Second hand smoke
Exposure to radiation
Occupational exposure to carcinogens such as asbestos, chromium, nickel, beryllium, arsenic, soot, or tar
Air pollution
Genetic susceptibility or family history of lung cancer
Infections
Dietary factors
History or family history of lung disease like COPD
Surgery, chemotherapy, radiation therapy and immunotherapy alone or in combination are the treatment options for lung cancer.
Lung cancer is the leading cause of death in the United States and worldwide. A report of US Public Health Service states that average male smoker had an approximately 9-fold to 10-fold risk for lung cancer, whereas heavy smokers had at least a 20-fold risk.
Never smokers account for 25% of the lung cancer cases reported worldwide.
Turmeric and one of its active ingredient curcumin have natural anti-cancer properties that benefit in lung cancer. [Read Introduction to Tumeric]
10 Research-Based Benefits of Turmeric In lung cancer
Over 300 research studies have investigated the effectiveness of turmeric and curcumin in lung cancer.
1. It kills lung cancer cells
Turmeric and curcumin are natural anti-cancer agents and are proven by research to benefit in various cancer conditions. (Read How Turmeric Redesigns Cancer Cell Mortality, Turmeric for Cancer)
Research shows that curcumin induces cell death in both non small cell lung cancer as well as small cell lung cancer. It acts in the following ways :
Prevents cell survival signals
Damages DNA in cancer cell
Induces reactive oxygen species which destroy cancer cells
Promotes activation of factors that cause cell death
Exerts anti-tumor activity
Regulates cancer-causing genes
Reverses drug resistance and increases sensitivity of cancer cells
Prevents metastasis or spread of cancer
Researchers suggest that in addition to its anti-cancer activity, curcumin is also no toxic which makes it a viable and effective adjunct to conventional cancer therapy.
What does this mean?
Over 300 research studies have proven the anti-cancer activity of curcumin in lung cancer. Curcumin acts in multiple ways to inhibit growth and spread of lung cancer.

Since it is void of toxicity, curcumin can serve as a viable adjunctive therapy in lung cancer.
2. It serves as an antioxidant
As an antioxidant, curcumin protects normal lung cells from oxidative stress and also aids in terminating lung cancer cells.
Yao et. al have proven that curcumin causes apoptosis or cell death in lung adenocarcinoma cells and this was accompanied by changes in oxidative stress levels (balance between prooxidant and antioxidant agents).
Another study also proves that curcuminoid prevents the proliferation of lung adenocarcinoma cells by inducing formation of reactive oxygen species and damaging cancer cells.
Curcumin derivatives are also found to sensitize lung cancer cells to chemotherapy due to their antioxidant property and reduces drug resistance.
What does this mean?
As an antioxidant curcumin helps destroy lung cancer cells and also reverses drug resistance.
3. It prevents mutations that cause lung cancer
Genotoxic agents or mutagens are those that cause changes in DNA and damage it leading to cancer development.
Dietary curcumin reverses the mutagenic potential of Benzo[a]pyrene, (cancer-causing agent).
Similarly, curcumin and resveratrol combination is also found to protect from the carcinogenic activity of Benzo[a]pyrene.
Zhang et. al have identified that curcumin by virtue of its antioxidant action can help prevent and curb genotoxicity caused by formaldehyde in lung cancer.
What does this mean?
Curcumin prevents genotoxicity (agents that cause DNA damage that may lead to cancer) in lung cancer.
4. It exerts anti-carcinogenic action in lung cancer
Benzo[a]pyrene is a procarcinogen which is converted into a cancer-causing agent B[a]PDE in the body. It presents in the environment as well as cigarette smoke.
A study published in Biofactors, 2015 demonstrated that dietary curcumin can prevent lung cancer caused by Benzo[a]pyrene and prevents its mutagenic action (ability to cause mutations that cause cancer).
Researchers at Rajiv Gandhi Centre for Biotechnology have found that curcumin can prevent the formation of lung cancer caused by nicotine. Nicotine enhances survival signals of lung cancer and curcumin was found to inhibit such activation.
Shisodia et. al have also found that curcumin inhibits activation of nuclear factor kappa B by cigarette smoke in non small cell lung cancer.
Nuclear factor kappa B is an important protein complex that controls various aspects like inflammation and cell cycle.
What does this mean?

Curcumin and turmeric protects lung from cancer causing agents like nicotine.
5. It terminates lung cancer stem cells
Certain cancer cells mimic the properties of normal stem cells and hence promote self-renewal and growth of certain cancers. This confers drug resistance to cancerous growth.
A study by Wu et. al reveals that curcumin inhibits proliferation of lung cancer cells and suppresses the stem cell-like properties and tumor formation in lung cancer cells.
A recent study published in Anticancer Agents in Medicinal Chemistry, 2016 demonstrated that curcumin significantly impacts self-renewal capacity of lung cancer stem cells.
It damages DNA in cancerous cells and prevents it from being repaired in order to prevent metastasis and progression of cancer.
A study published in Oncology Reports, 2016 demonstrated that curcumin enhances the efficacy of cisplastin, chemotherapeutic drug in targeting lung cancer stem cells.
What does this mean?

Unlike conventional anti-cancer agents, curcumin targets self renewing lung cancer stem cells.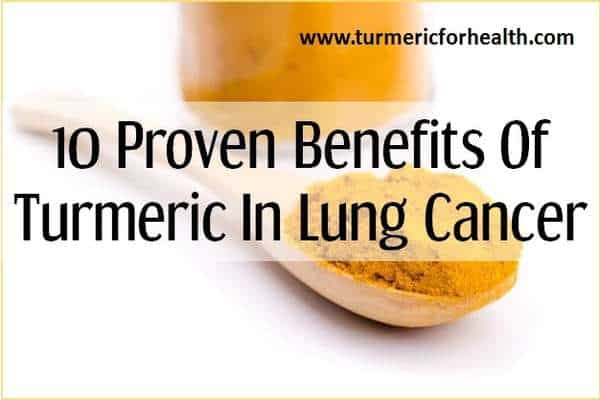 6. It prevents metastasis
Curcumin functions as an anti-metastatic agent: it prevents the spread of cancer to other parts of the body.
Various studies have found that curcumin acts on various biochemical pathways and molecules in order to prevent metastasis in lung cancer.
Aggarwal et. al has proven that curcumin can prevent lung metastasis from breast cancer. Curcumin also sensitizes the efficacy of chemotherapeutic agents in inhibiting metastasis.
What does this mean?
Curcumin prevents metastasis or spread of lung cancer. It also prevents secondary lung cancer and enhances the activity of chemotherapeutic agents in preventing metastasis.
7. It reduces drug resistance
Curcumin works as chemosensitizer- it reduces drug resistance and increases the sensitivity of cancer cells to chemotherapeutic drugs.
A study published in the International Journal of Nanomedicine,2016 reveals that curcumin reverse doxorubicin drug resistance in Lewis lung cancer tumor.
Kim et. al have proven that curcumin exerts anti-proliferative (inhibits spread and growth) in both drug resistant and non-drug resistant in non-small cell lung cancer cells.
Curcumin is also found to reverse drug resistance to other chemotherapeutic agents like cisplastin and erlotinib.
A study published in Cancer Biology & Therapy, 2008 shows that curcumin alone or in combination with other agents can overcome Multidrug resistance in non-small cell lung carcinoma.
What does this mean?
Curcumin sensitizes cancer cells to chemotherapeutic agent and reverses drug resistance thereby increasing therapeutic efficacy.
8. It is a chemopreventive agent
As a chemopreventive agent, curcumin helps in preventing lung cancer in the first place.
Curcumin is found to protect lung cells from the cancer-causing effect of various toxins like nicotine, benzo[a]pyrene etc.
Curcumin also protects airway cells from damaging effects of particulate matter that cause air pollution.
It also protects in case of various lung diseases. Research proves that curcumin can prevent COPD from progressing into cancer and this can be beneficial in high-risk COPD patients.
What does this mean?
Curcumin's anti-carcinogenic, anti-inflammatory and antioxidant properties can help in preventing lung cancer.
9. It has anti-tumor action
Curcumin exerts anti-tumor action in Lewis lung cancer by regulating the activity of certain immune cells whose inhibition prevents tumor growth and controls lung cancer.
Luo et.al have proven that low dose curcumin enhances anti-tumor immunity in lung tumor.
Research proves that curcumin inhibits lung tumor formation by preventing blood vessel formation.
Curcumin also reduces inflammation to curb lung tumor growth as evidenced by a study published in Molecular Oncology, 2012.
What does this mean?
Curcumin benefits as an anti-tumor agent in conditions like Lewis lung carcinoma.
10. It can protect from side effects of cancer treatment
Dr. Goel and Dr. Aggarwal have identified curcumin as a chemoprotector and radioprotector- it protects from side effects of cancer treatment.
Curcumin and turmeric protect various organs from drug-induced toxicity including chemotherapeutic drugs. It also protects from toxicity of radiotherapy.
Curcumin differentiates between normal cells and cancer cells; it protects normal cells while causing cell death in cancerous cells.
A study in humans demonstrated that Meriva, a specialised formulation of curcumin, attenuates the physical symptoms or side effects faced in conventional cancer treatment.
What does this mean?
Curcumin protects from the toxic effects of chemotherapy and radiotherapy and can also benefit as an adjuvant therapy in lung cancer.
Can curcumin worsen lung cancer?
There are a few studies that report contradictory results in terms of curcumin and its effect in lung cancer.
A study conducted by Wake Forest University School of Medicine, reports that curcumin promotes lung promotion. In this animal study, curcumin was compared to a lung tumor promoter and lung cancer chemopreventive agent.
It was found that dietary curcumin promoted the progression of lung cancer lesions from benign state to aggressive cancer. Further, it was also observed that curcumin caused oxidative damage.
The researchers commented that this is attributed to the prooxidant effect of curcumin and further studies should be conducted to understand the effect of curcumin in early stages.
They also stated with respect to clinical trials conducted to assess curcumin's chemopreventive potential in colon cancer, it may be necessary to exclude those who have a history of smoking.
A study published in the International Journal of Cancer Research, 2013 demonstrated that curcumin does not prevent metastasis but promotes it by causing the development of blood vessel formation and inflammation.
Another study published in the Journal of Cancer, 2012 reveals that certain Lewis lung cancer cells can survive curcumin treatment at high doses.
These cells are found to be less sensitive to curcumin and the minimal dose required to kill original Lewis cancer cells increases by 50% in order to terminate these surviving cells.
Also, it was observed the tumor formation potential of these surviving cells was less and the aggressive nature of these cancer cells was reduced as evidenced by the reduction in tumor marker expression.
What does this mean?
A few research studies do contradict curcumin's anti-cancer action in lung cancer and demonstrate that it can promote lung tumor formation and enhance metastasis.

Distinct mechanisms for this action have not been identified.

It could be a dose dependant effect; perhaps high doses of curcumin creates pro-inflammatory and pro-oxidant conditions which may have toxic effects.

But study in humans shows that curcumin even at high doses up to 12 g is safe and well tolerated. Also turmeric is consumed regularly in diet in Asian countries. More research is required for clarity on these contradictory studies.
FAQS regarding Turmeric and Lung cancer
Here are a few questions commonly asked in relation to the therapeutic efficacy of turmeric and curcumin in lung cancer.
1. Does turmeric heal lung cancer?
Turmeric and curcumin are natural anti-cancer agents and are proven to destroy lung cancer cells. Based on the studies to date, curcumin can benefit as adjunctive therapy in lung cancer.
2. What dose of turmeric should I take for cancer?
This depends on the form of turmeric you take. We recommend taking Golden Paste and the details have been highlighted in the Dosage section below.
3. Should I take whole turmeric or curcumin for cancer?
We recommend taking a combination of curcumin supplements as well as turmeric in the diet for cancer therapy. Further details have been highlighted in the dosage section.
4. Is it safe to take turmeric/Golden Paste with turmeric supplements in cancer?
Yes it is safe to take Golden Paste or turmeric in diet when taking supplements; however it is advisable to limit to low doses say 1-2 teaspoon in a day to avoid gastric discomfort.
5. Can I take turmeric with chemotherapeutic drugs?
Turmeric in diet is safe. If taking turmeric supplements when on chemotherapy it is best to consult your health practitioner about this.
6. Can I turmeric during radiotherapy?
Turmeric in diet is safe. Please consult your doctor before taking turmeric supplements when undergoing radiotherapy.
7. Are there any side effects or precautions to note about turmeric?
Turmeric, when taken in diet in moderate doses, is safe. However, there are certain precautions that you should be aware of and these have been discussed below in Precautions section.
8. Should turmeric be avoided in gout?
Low doses of turmeric in diet can be used in gout but for a therapeutic purpose, it is preferable to take turmeric supplements. Please read Precautions section.
9. I am taking a blood thinner, can I take turmeric?
Turmeric in small amounts in diet is safe but turmeric supplements should be avoided in case of bleeding/clotting disorder. It is advisable to discuss this with your doctor.
Dosage of Turmeric In Lung Cancer
Turmeric in diet can help prevent cancer. Curcumin, one of the active ingredients is poorly absorbed in the body and hence should be combined with black pepper and/or healthy fats for better absorption.
Turmeric supplements
For cancer we recommend taking turmeric supplements as conditions like cancer require high doses of curcumin for treatment. The dosage for the same is outlined in the article Turmeric / Curcumin Dosage for Cancer : A Scientific Plan.
Consult your doctor before taking turmeric supplements for cancer. It is advisable to keep a gap of 3-4 hours between taking turmeric/curcumin supplements and other medicines since curcumin interferes with drug metabolism.
Also avoid taking turmeric supplements on an empty stomach to avoid acid reflux.
Golden Paste
Golden Paste is a combination of turmeric with black pepper and healthy fats to ensure better absorption of turmeric.
Start with low doses such as ¼-1/2 tsp a day for a week and if you observe no side effects increase the dose by gradually every week to reach the ideal dose of 2-3 tsp a day.
Avoid taking it on an empty stomach and close to taking other medicines. (Read Does Turmeric cause acid reflux? Black pepper in GP: Does it cause drug interaction?)
If not taking Golden Paste it is highly advised to include turmeric in regular cooking and diet to prevent and fight cancer.
You can simply sprinkle it in soups, curries, rice dishes, smoothies or can refer to turmeric recipes. You can also consume ½ inch piece of fresh turmeric daily or juice it.
To identify good organic brands of turmeric please check our recommendations on best organic turmeric brands.
Precautions
Dietary turmeric is very safe but a few precautions need to be considered when it comes to turmeric supplements (Read Side effects of Turmeric):
Avoid in pregnancy and lactation
Avoid if suffering from gall bladder obstruction
Avoid if suffering from a bleeding disorder
Discontinue prior to surgery
If suffering from gout or at risk of developing kidney stones, limit intake of turmeric as a spice. (Is turmeric safe in gout? Does turmeric cause kidney stone?)
Avoid taking turmeric on an empty stomach to avoid acid reflux symptoms. (Does turmeric cause acid reflux?)
If suffering from a bleeding disorder, small doses of turmeric in diet are safe but it is best to consult a doctor before taking turmeric or turmeric supplements in this case.
A general precaution is outlined that turmeric may have drug interactions with stomach acid reducing medication, antidepressants, blood sugar reducing drugs etc.
Curcumin found in turmeric is known to interfere in drug metabolism. Hence it is advised not to take curcumin supplements concomitantly with any other medicine.
If suffering from cancer or taking cancer therapy please consult a doctor before taking turmeric supplements.
Conclusion
Lung cancer has been identified as the most common cancer since 1985 both in terms of mortality and incidence. Worldwide lung cancer is the largest contributor to cancer related deaths as well as new cancer diagnoses.
Lifestyle changes and environmental changes are a must in prevention of lung cancer. Dietary changes and inclusion of turmeric in diet can help in cancer prevention.
Save
Save
Save